10 Must have food for Winter Season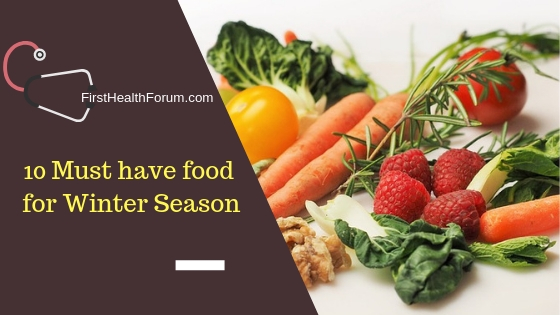 Wearing blazers, jacket or blankets is not only the solution to fight with chilled ice fangs and crystal nights of winters. With the decrease in temperature, your body energy level also falls down that leads to weakness and slow down your metabolism. So, having a proper diet in winter will help you to get out of this problem and will fill your stomach. Here in this article, we are going to share with you some healthy diet food charts and recipe that will keep your body energized and fit this season.
So, Lets Get Started –

1. Nuts and dry fruits –
As you all know, nuts and dry fruits are the best and high energized foods that is rich with basic oil and minerals. In winter, as you all experience that your skin becomes dry and dull. So, eating dates, almonds and nuts gives your body all that vital nutrients and vitamin that prevent your skin from becoming dry. Moreover, it is a organic product that keeps your body safe from some winter influences like influenza, colds etc.

2. Sweet Potatoes –

Eating sweet potatoes in winter is the most effective way to keep your body fit and warm. Sweet potatoes contains essential nutrients and vitamin A with low carbohydrates and calories. It's a tasty mean of healthy food for winter season with lots of benefits that are –
Good for Eyes.
Boost your immunity system.
Enhances your brain functioning.
Useful for better digestion.
Helps in Weight loss.
Also, control body sugar and much more.
3. Red Bell Pepper –

Do you know that the "Red Bell Pepper" contains double amount of Vitamin C than that of citrus fruits which is very helpful in your body to boost your immune system.Moreover, it has Vitamin A on it which is beneficiaries for eyes and consuming it regularly also keeps your body safe from cold.
4. Green Tea –

If you are health conscious or want to lose weight, then this can be the best weight loose dirt for you. Consuming green tea regularly keeps you safe from any type of cancer diseases. It is more than just any type of liquide. Green tea is enriched with antioxidants and essential nutrients that needed for optimal health and keeps your body safe from any types of radicals and oxidants. More than this, it also helps in increasing your body metabolism.
5. Salmon –

Salmon is one of the best mean of Vitamin D and is great source of protein. This winter, if your planning to give your body a proper shape, then this food can be the most beneficiary for you. It contains vital skin nutrients like Omega – 3 fatty acids EPA and DHA with high loaded selenium and potassium. More than this, it also keeps you safe from any types of heart disease.